Global Business Manager (France)
Role: Global Business Manager
Package: Depending on Experience
Location: France - Remote
Recently listed as a "RegTech Top Performer" in Market Fintech's RegTech Supplier Performance Report, CUBE is pioneering the development of machine automated compliance.
We are a global RegTech business defining and implementing the gold standard of regulatory intelligence and change for the financial services industry. We deliver our services through a SaaS platform, powered by an innovative combination of AI and proprietary data ontology, to simplify the complex and everchanging world of compliance for our clients.
CUBE are creating the future and are a company rooted in strong values, team spirit and commitment to our customers and wider communities. We serve some of the largest financial institutions globally and are expanding our footprint very fast. As we do so, we are keen for new talent to join us and realize their full potential to grow into leadership positions within the business.
Our Products:
RegPlatform is an Enterprise grade technology platform that streamlines regulatory change management. It provides firms with a one-stop, continuously maintained inventory of global regulations, with effortless horizon scanning, integration capabilities and workflow management. RegPlatform combines industry leading AI technology with expert validated insights to simplify the complexities of multi-jurisdictional regulatory content.
RegAssure caters for nimble, lean financial organizations that want assured, seamless compliance without the burden of set-up costs and implementation processes. RegAssure provides fast, automated regulatory intelligence that intuitively knows your business needs and can grow with you.
You will join a team of experienced and high caliber strategic sellers, responsible for account management and significant growth within largest 'Global' Financial Services Firms in the world. You will be targeted based on a 3-year Business Plan

Responsibilities:
Full ownership of account; domestic and international offices
Substantial FS experience and proven success navigating global banks
Maintain organization chart for account and develop relationship with all 'land and expand' stakeholders – all doors must be explored.
Responsible for retention and a heavy focus on growth; upsell, cross-sell and net new
Responsible for strategy and plan for continued growth
Managing between 2-3 accounts per GBM, with Executive-level relationships across all accounts
Strategy and insight-led selling to open opportunities, move CUBE to preferred status and ultimately CUBE into a strategic partnership
Collaborate with marketing to ensure dedicated account-based selling to global accounts
Collaborate with CUBE Channel Partner to ensure CUBE has (preferred) relationship status with respective Advisories that each account engages with
What we're looking for:
You will be a sales professional with a strong background at enterprise/strategic level within the Financial Services sector, ideally with selling Compliance or Risk solutions.
You will have experience closing 7 figure deals across some of the largest names in the industry
Experience in a solutions sales role within in a software, services or consulting organization with a background of selling compliance solutions
The capability to influence key decision makers during the full life cycle of the sales process
Strong communication, presentation and negotiation skills
Outstanding client relationship management skills
Why Us?
Market Leaders
CUBE is a well-established player in Regtech (we were around before Regtech was even a thing!), and our category-defining product is used by leading financial institutions around the world (including Revolut, Citi, and HSBC). We cover over 5,000 issuing bodies in 712 jurisdictions across 180 countries. Substantially more than our closest competitors.
Progression
We are scaling rapidly and constantly evolving our products and our ways of working. You will have a significant influence over how we develop moving forwards and we will help you realise your full potential and grow into leadership positions across CUBE.
Internationally collaborative culture
CUBE has more than 250 employees across 11 locations in Europe, the Americas and APAC and we are united by our strong team-oriented culture. You will have the opportunity to work with likeminded colleagues from all over the world, gaining exposure to different cultures and business practices.
Work life balance
CUBE are a remote first business, you'll be able to design your home office and choose your own work equipment. Each department has monthly meet ups you're able to join and if you prefer to work with others its at your discretion to book a co-working space whenever suits you.
Team

Sales

Remote status

Fully Remote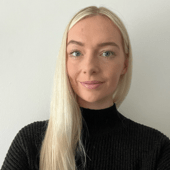 Contact
April Gunn
Senior Talent Manager – Corporate Services
About CUBE
Transforming regulatory data into regulatory intelligence.
Global Business Manager (France)
Loading application form
Already working at CUBE ?
Let's recruit together and find your next colleague.