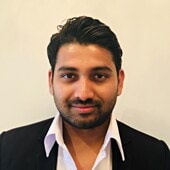 Prabuddha Jayasundara
Head of Engineering, RegTransform – Product
Prabu has a passion for processing content at scale, leveraging cloud-native technologies in bringing order into unstructured data. He brings in 15+ years of experience designing and architecting distributed systems for enterprises, and of late leveraging cloud-scaling capabilities for faster results and more efficient use of compute power.
Over the past few years at CUBE, Prabu has been leading content transformation services by turning the unstructured web of regulatory content into a semantic structured representation. His team has built CUBE's own distributed capturing system and computer vision AI.
Outside of CUBE, Prabu is a middle-distance running enthusiast aiming to run 5km in less than 20 minutes.